Veterans Health
Veterans Health is most important and when a military person finish services to the country Yak's Fitness and GYMStar wants to continue the gratitude and respect for there time. If you have finished serving with the armed services send us your DD14 and we will extend to you 20% discount on the purchase of a GYMStar Smart Watch and Gold membership. If you live in Las Vegas come to Yak's Fitness check out our gym. We will extend to you a five day free membership testing period and to try GYMStar Gold Membership.
I am a professional trainer in the past I have worked with ex-marines who are disturbed about issues. I will report to you that weightlifting clears depression. When recovering from mental or  physical issues nothing is more powerful than weight lifting.
Sooner or later you are going to finish your time with the military, for many of us, losing the military means gaining weight. That's not just perception or stereotyping — it's a documented fact. A U.S. Army article released last year reported, "Approximately half of the Army retirees whose height and weight were measured at medical appointments in military treatment facilities last year had a body mass index that classified them as obese. Obesity rates for these retirees are significantly higher than the general population of the same age."
Home programs suck and are doom for failure the weakness comes from lack of leadership. Most people lack physical leadership to exercise and stay on course, leadership you found in the military. I know that when I was a young man I had friends and the older we get friends come and go. Well you're out of the military now. Unless you resettled in either a military town or your hometown, you need to get out and meet some new people. There are a million ways to do that, but fitness events are a great way to do it or find a gym with good equipment. A lot of vets hate "fat and lazy" civilians. Another choice is physical events and games, putting them on your calendar gives you a goal and provides focus to your training. There are even groups like Team Red White & Blue that exist to help vets connect to their communities through fitness events.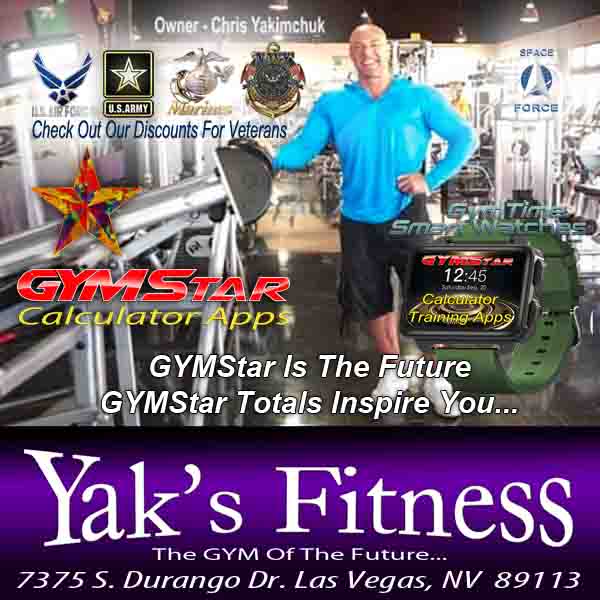 Now that we have talked about staying fit lets talk about GYMStar Calculator and how the software works for you as an individual or with friends.  GYMStar is an app that runs exclusively on a smart watch. The value of the app is last results that influence today's results.  Because you have your numbers right in front of you while you are working out the results are amazing. To learn about how this works to inspire you and keep you on track visit our website for referrals and a clear understanding that GYMStar will be the athletic tool of the century. Yes weights are weights but GYMStar is more than a weightlifting journal. If you just found this article you will be hearing about GYMStar through advertising and marketing soon. But the truth is you will not go to the gym without GYMStar or work out at home without it.
Chris, Owner Yak's Fitness